Every month, IOP® Tutor Michael Barrow sets a project for our students. In November, they were tasked with photographing the mundane within the home to provide a snapshot of daily life. 
Winner
Sarah de Vlieger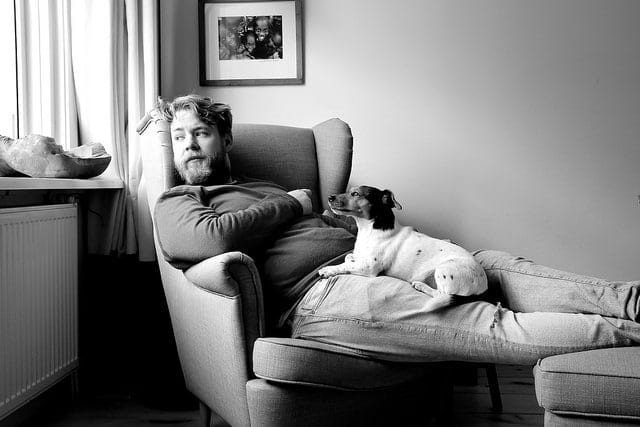 I love this fleeting little moment of calm. Sarah has shot well here. She's waited to take her chance, capturing hubby in a state of relaxation, his attention drawn to the window by something. You've got a slightly slower shutter than I'd usually like here, Sarah but you've made sure your hand is steady, perhaps even steadying it on a surface and as such still have a pin-sharp capture. I think you were right to stick with the f/8 as it's a lovely crisp image, corner to corner, with a nice deep depth of field. The result is a clean, documentary shot, with lovely attention to natural light. Your proximity is just close enough for us to feel a part of the scene, almost relaxing with Ben. But it's not so close as we can't get a feel for your home environment. I love his messy hair, the dog on the lap and the dog hairs on his jumper. A lazy Sunday indeed! Well done!
Commendables
Antoinette Douglas-Dufresne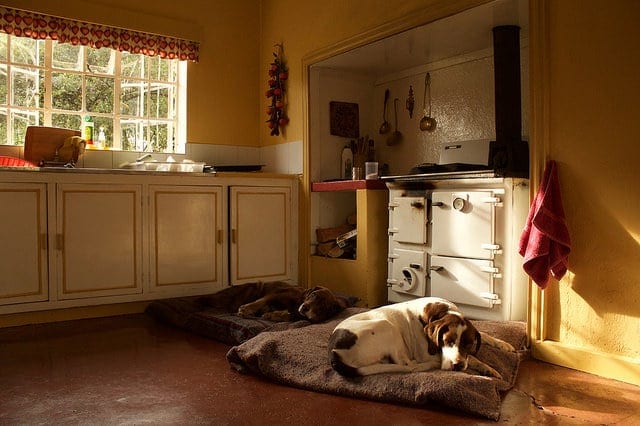 I love the warmth and character of this shot by Antoinette. It's such a lovely, satisfying capture. I nice wide angle, and narrow aperture helps capture lots of detail n this interior. I love the chair and wear on the old Aga and the logs stacked beside it. The dogs lie lazily as if not long home from a big, long walk. I think what makes this images so comforting to view is that attention to the natural light flooding the space and catching on the yellow walls. By lowering your angle and keeping those lines from the walls nice and straight and parallel to your frame, you help us enter a quiet corner of your home, just to observe, maybe bask in the warm light with the dogs for a while.
Mostahfiz Gani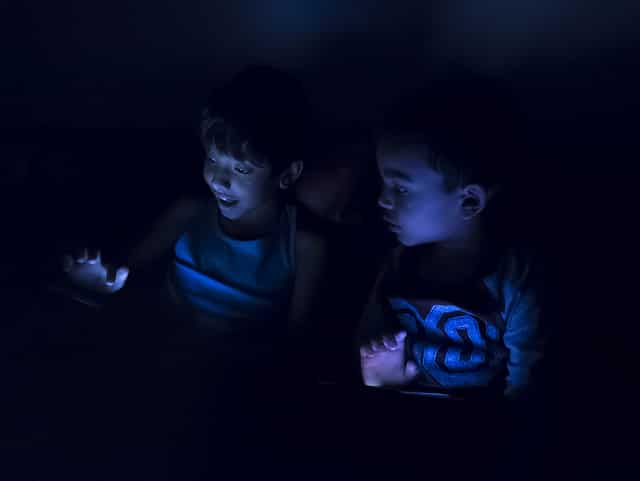 A very clever use of light in this image by Mustahfiz. This would have been no easy subject to shoot. I think I mentioned the success of the shot and how the black plunges any sense of context purposefully away but still plays a big part in this wonderfully narrative little scene. It's warm and cosy and reflects a sense of excitement, that allocated time when the young ones can play on the tablets before bed. We all have rules and regulations like this, but they're deployed in different ways. It's a very tender little moment, captured very cleverly.
Elaine Humphreys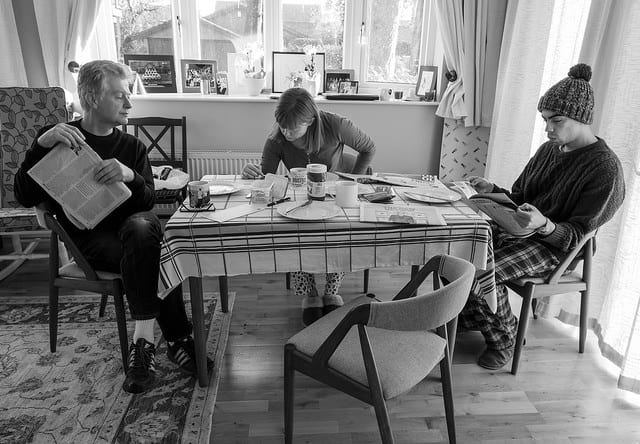 Elaine had a great eye for this sort of thing. Again, here we have a scene that so many of us are familiar with. The breakfast table, the Sunday papers. It's a refreshing little scene. I particularly like the movement you have in hubby's actions here. It's rather expressive and yet familiar, a sight I could see my father perhaps doing, sifting through for different segments. I also like the slippers peeking from under the table. You're backlit here, so a bit more difficult to shoot but again there's a lovely attention to available light, and despite that 1/40 shutter, you do have a crisp image. 
If you want to take part in an IOP® photography project, take one of our online photography courses and begin today.