IOP is accredited by the CPD and affiliated with the Guild of Photographers.
You can find out more about our Guild qualification here.
Read on to discover the benefits of accreditation with the CPD.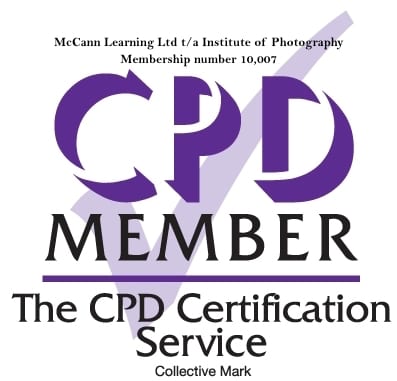 We provide accredited photography courses for all skill levels.
IOP® are accredited to provide courses by the CPD Certification service (membership number 10007).
Accredited CPD training means the learning activity has reached the required CPD standards and benchmarks. The learning value has been scrutinised to ensure integrity and quality. The CPD Certification Service provide recognised independent CPD accreditation compatible with global CPD standards.
This means you can gain CPD (Continuing Professional Development) points to put on your CV by taking an IOP® accredited photography courses. Many employers use the CPD point system as part of their training, which is why we have chosen this route.

You can see a list of CPD members here – these are organisations that recognise and use the CPD points system
We are in good company – some of the largest and most successful businesses in the UK recognise the CPD points system so an IOP® certificate is a great enhancement to any CV.
You can find more information on the CPD here.
Learn more about why IOP® have chosen CPD for our accredited photography courses here.