After photographing a wedding for a friend and then being recommended to do one for the sister-in-law of a work colleague, I decided I wanted to change career,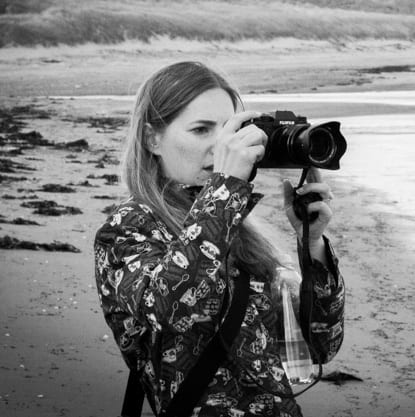 specialising in wedding photography. Like anyone used to continuing professional development within education, I immediately looked towards making sure I was good enough to charge money. My initial decision was to join a photography association and after one critique – in which my images were torn apart – I lost a lot of the confidence I had in myself. I bought a new, more expensive camera and tried a second time and though the feedback was better it became apparent that I had a lot of work to do: firstly, to try and re-build my confidence; and secondly, to learn some of the skills I was beginning to realise I was lacking. The only way forward was to take a course.
While my dream is to change career, like many of us, it is not something I can do overnight. This meant Photography courses taught at colleges and university were out, as were the evening courses affiliated to The Scottish Qualifications Authority (SQA) as they were mid-way through and I wanted something immediately. I spent a few days searching for courses and found a wide range of general courses but little specialising in wedding photography. I can be quite single-minded, and when I have a goal my focus is on only reaching that goal!
Furthermore, I wanted something affordable, that I could work through at my own pace and included regular critiques – they're not always pleasant, but they are essential! Institute of Photography (IOP) do offer accreditation and while it was something I wasn't particularly fussed by (I merely wanted to ensure that whichever course I selected would equip me with the skills required) it is nice to know that I'll gain something in return for my efforts – as well as the skills and experience!
I opted for IOP for two main reasons: firstly, they offered a platform to work at my own pace; secondly, the price was reasonable to start with, and they offered the flexibility to pay monthly. This meant that I could start immediately without worrying about upfront costs (a new camera meant new lenses… and let's just say that any money coming into my business is being invested straight back in!).
And on that note, I liked that it was made clear that it wasn't a requirement to spend a great deal on camera equipment – there is a minimum requirement but simply one which enables you to take the shots necessary to complete the assignment and is the equipment that a keen photographer already has or would want to add to their collection.
I hoped to have been further through the course than I currently am. The initial Units I was able to complete quite quickly as they involved reading through important information and completing short quizzes before moving onto to the next stage. The latter ones, however, involve actually taking photographs and this requires time, consideration, models and locations. When considering such a course, the flexibility to do it in your own time is excellent; however, it does require a real commitment and the willingness to be out and about with the camera – it is not a course that can be done purely from home and if was, it would not be an effective one.
Since starting the course, I feel I have learned a great deal – from very basic to more advanced detail. The biggest thing for me has been gaining an understanding of aperture. I knew what it was and knew that I liked shooting with very wide apertures but had never stopped to consider how a wide aperture was affecting my images – parts of faces were out of focus when they shouldn't have been because I had no concept of my distance from the subject.
I had in my head that if it was wider I could let more light in and therefore I could use a lower ISO and avoid using a flash. I still think this way but am far more aware of what I'm trying to do with my composition – sometimes I do want more of the subject out of focus; but, mostly, I want the subject in focus and the background out not the mixture I had previously.
Before the course I didn't know anything about metering – I knew there was a setting on the camera and given that I had always preferred shooting manually, it seems that a lot of my shots in the past had been lucky, rather than carefully crafted. Now, I find during shoots that I'll play around with the metering mode and more often than not prefer spot metering over evaluative – although that is during periods where I have no time constraints.
I've found the tutors very supportive. There are several weekly chat sessions which I've only utilised once but think as I progress further, I will use more. Any emails I've sent have been answered promptly and with the requested advice and support.
I am currently enrolled on four courses (one is the Advanced Diploma in Wedding Photography which I'm not ready to start yet) and have a different tutor for each (so far, the Lighting course has not required me to submit anything, so I've had no tutor contact, but it has been made quite clear that if I need anything, I can get in touch.)
Each tutor has been great – critical, but constructive and supportive and open with ideas to help me improve. Another simple but highly supportive aspect of the IOP courses has been the community. There is a Facebook group which is well used, and participants often post work they are proud of or would like others to give feedback on. I find this a great tool for ideas and also find it is making me more critical of my work – I'm noticing things in others work that I've perhaps overlooked in my own. And equally, noticing things I like and then incorporating things into my work.
With a photography course, everything is about improvement. If you want to dedicate time to make your photography better, I would highly recommend IOP.
See more of Victoria's work here
Find out more about our courses here
Download a Free Prospectus
Get your Free Guide To Composition here